Date & Time
8 September 2021 -
10:00 am - 11:30 am
---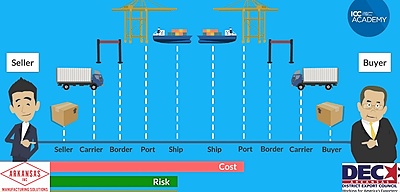 What are the Incoterms® (International Commerce Terms)?
These rules are the world's essential terms of trade for the sale of goods
They are a set of 11 internationally standardized rules which define the responsibilities of sellers and buyers
They specify who is responsible for paying for and managing the shipment, insurance, documentation, customs clearance, and other logistical activities
The new rules entered into force on 1 January 2020.
Why Use Incoterms®?
Using Incoterms properly in your export contracts will reduce your global trade risk by eliminating inconsistencies in language and defining the monetary and procedural aspects of all international shipping practices.
Whether you are filing a purchase order, packaging and labelling a shipment for freight transport, or preparing a certificate of origin at a port, the Incoterms® rules are essential guides. Mr. Graham Catlett, International Business Attorney with decades of experience, will discuss how to use Incoterms® correctly and to your advantage.
Topics Covered: 
The eleven Incoterms®
What Incoterms® do and do NOT do
How best to incorporate the Incoterms® rules
Detailed Description of Incoterms®
Order within the Rules
Differences between Incoterms®2010 and 2020
Who Should Attend: This course is ideal for professionals in import/export operations, marketing/sales management and customer service, purchasing or logistics, ISO and compliance management, insurance, commercial law and finance.
Cost: Free!